Article: Discover What's New with PowerBug: A Closer Look New NX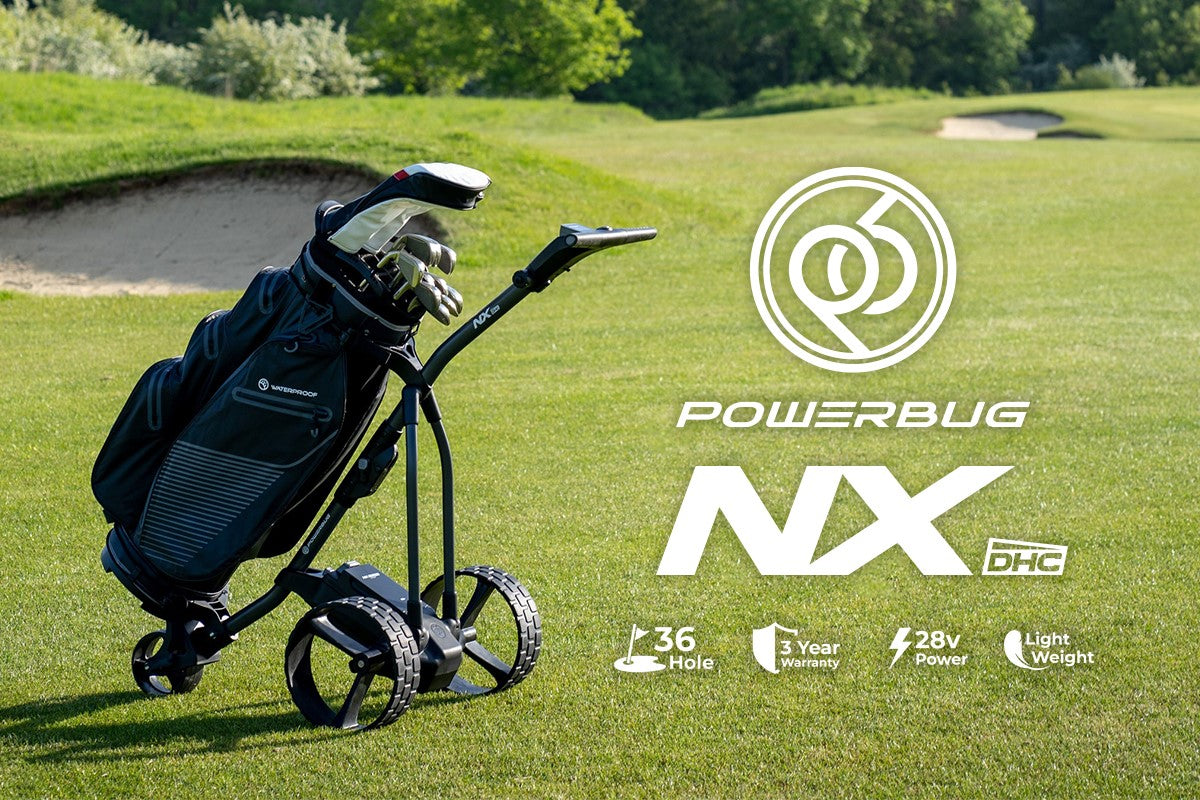 Discover What's New with PowerBug: A Closer Look New NX
PowerBug is a British-based company that specializes in designing and manufacturing motorized golf trolleys. Founded in 2003, the company emerged with a vision to enhance the golfing experience by offering innovative trolleys for golfers. Over the years, PowerBug has grown into a respected brand within the golfing community, known for its commitment to quality and technology.
PowerBug has become a go-to-choice for many golfers seeking a reliable, efficient, and affordable motorized golf trolley. Their collection of trolleys range from as low as $599 CAD for basic models, up to $1,299 CAD for the newest models offering premium features like DHC (Down Hill Control).
The Growth of PowerBug
In the early stages, PowerBug focused on introducing motorized trolleys that provided convenience and ease of use at an appealing price point. Their commitment to delivering reliable products that catered to golfers' needs quickly gained attention within the golfing community. As a result, the brand began to grow its customer base and reputation, leading to increased demand for their products throughout North America.
The early models of motorized trolleys were simple and effective, providing golfers with a means to transport their golf gear effortlessly. As technology advanced, PowerBug integrated features such as DHC, variable speed settings, improved battery life, and ergonomic designs to enhance the overall experience.
The New PowerBug NX and NX DHC
PowerBug continues to stand at the forefront of new golf tech with its latest innovation, the NX electric trolley. The PowerBug NX and PowerBug NX DHC are two prominent models in PowerBug's line of products, offering a blend of convenience, performance, and cutting-edge features. While both models share common features and qualities, they also have distinct differences that cater to certain golfer preferences and needs. The new NX and NX DHC features a sleek design that pays homage to the core expectations from any PowerBug machine.
So, what is the difference? The primary difference between the PowerBug NX and PowerBug NX DHC is the inclusion of the Down Hill Control (DHC) technology in the NX DHC model. Also included in the electric electronic parking brake that prevents the trolley from rolling away while stationary. The NX DHC's features provide added safety and control during downhill walks, making it an excellent choice for golfers who play on courses with significant elevation changes. In contrast, the PowerBug NX model offers the essential features of a motorized golf trolley without the specialized downhill control feature.
Let's take a closer look at the features of the PowerBug NX and NX DHC.
 

 

$1,099 CAD

 

$1,299 CAD

Down Hill Control (DHC)

❌

✅

Electronic Parking Brake

❌

✅

28 Volt Power System

✅

✅

VRAP Distance Control

✅

✅

Easy Folding

✅

✅

Rubberized Wheels

✅

✅

Accessory Station

✅

✅

36-Hole Battery

✅

✅

9 Speed Settings

✅

✅

Display Screen

✅

✅

USB Charging Port

✅

✅
Powerbug NX and NX DHC Feature Specs
Down Hill Control (DHC): This technology allows the trolley to automatically maintain a constant speed when descending downhill, preventing the trolley from running away and providing golfers with a safer and more controlled experience on hilly courses.
Electronic Parking Brake: The brake locks wheel rotation in both directions, which prevents the trolley from rolling away while stationary.
28 Volt Power System: The super-efficient 28.8-volt power system delivers balanced torque, making it suitable for various course conditions and terrains.
VRAP Distance Control: The Variable Run and Park (VRAP) feature allows the trolley to automatically run and stop in increments up to 50 yards.
One-Button Folding System: Seamlessly transition from the course to your car with the trolley's user-friendly folding mechanism, offering quick and effortless folding and unfolding.
High-Traction Wheels: The heavy-duty, low profile rubberized wheels provide exceptional traction, ensuring smooth movement across a variety of conditions.
Accessory Station: Equipped with a built-in accessory station offering a dedicated space to attach and secure a range of golf accessories, including a drink holder, scorecard holder, umbrella holder and more. Shop the PowerBug accessory pack here.
36-Hole Battery: Enjoy extended playtime on the course with the 36-hole Lithium battery, providing reliable and lasting performance for longer rounds.
Customizable Speed Settings: Adjust the trolley's speed in 0.5 increments to find the perfect pace for any golfer.
Display Screen: The handle's adjustable display screen shows information including battery level and speed adjustments, ensuring you're always informed and in control.
USB Charging Port: The built-in USB port allows you to charge your mobile or GPS device while enjoying your golf game.
What to Choose: NX or NX DHC?
Ultimately, the choice between the PowerBug NX and PowerBug NX DHC depends on a golfer's preferences and the type of courses they play on. Golfers who frequently encounter hills and elevation changes may find the NX DHC's Down Hill Control feature to be a valuable addition to their golfing arsenal, while those seeking a simpler motorized trolley may opt for the PowerBug NX model.
To talk with one our trolley specialists about the PowerBug NX of NX DHC contact us here. If you would like to book an appointment to try out these units at our showroom, you can select a time here.