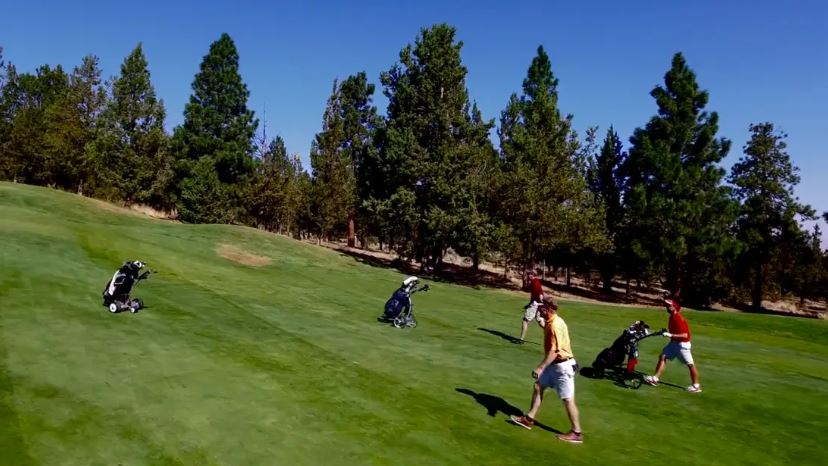 BLOG: Behold the golf trolley! Finally getting some love ... and hate
Let me say up front that I've been using a golf trolley for over 10 years. It started with some marketing work I was doing for JPSMGolf, distributor of several trolley brands in Canada, and owner and President Joseph McLuckie asked me to try one.
It didn't take long before I was hooked.
I've always been a walker and for most of my golfing life, lugging a 25-pound bag of clubs wasn't much of an issue. But a pair of knees nearly worn out from years of pick-up hockey, skiing and golf, plus some personal weight that I'd added along the way, had turned an easy walk into something a little more challenging, especially if the finishing holes required an uphill climb as they often do. With a trolley shouldering most of the burden, all I had to worry about was getting my own carcass to the finish line.
Oddly, I had never really thought much about an electric trolley before I tried one. They've certainly been around quite a while and I suppose there were people using them on the course when I played. But none of the folks I played with regularly used one. However, one thing I did notice was that a lot of the guys who used to carry, were now using a pushcart or pull cart.
Fast forward to 2021 and now it's hard to miss the proliferation of trolleys. Joseph McLuckie says it's a lot of education and awareness finally taking hold. His company has been selling trolleys in Canada for over fifteen years but for the first decade or so, he says it was like pulling teeth.
The pros at private clubs initially didn't want them, as they ate into riding cart revenue, plus the trolleys had to be stored and cleaned, and the batteries had to be charged. If one of them didn't work as intended, it was the professional staff that bore the brunt of member complaints.
"Initially, the pros really didn't want anything to do with electric trolleys," says McLuckie. "They viewed them as the proverbial red-headed stepchild."
Fortunately, malfunctions are rare and can usually be fixed with a phone call. JPSMGolf has earned a stellar reputation for their service work which often shows up in customer testimonials. The pros also discovered that instead of being a headache, trolleys were actually a decent revenue source. They could earn a margin for selling them to members and also charge them for storage. Some enterprising pros even bought fleets of trolleys and rented them on a per round basis the same as riding carts.  
It should be no surprise. Trolleys have been part of a golfer's "kit" in the United Kingdom and Europe for nearly twenty years and pros regularly stock them for resale. Three of the largest selling trolley brands in the world are based in the UK (Motocaddy, PowerBug and PowaKaddy), while Stewart Golf, considered to be the top of the line, is not only a UK company, all of its models are built there too.
Back in 2014, the R&A published a Pace of Play study that showed the usage of electric trolleys around the world. Golfers in the UK and Europe played in excess of 50% of their rounds using a trolley, while the figures for Canada (8%) and the US (4%) lagged way behind. That's definitely changing.
McLuckie notes that sales of his four brands have enjoyed double digit growth the past few years and saw a real spike last year when COVID-19 protocols closed down other activities but allowed golf to be played as long as people practiced social distancing. Lots of new golfers joined the throngs already addicted, many of whom thought walking was the perfect antidote to sheltering in place in front of a computer screen.
While the trolley category is definitely on the upswing, it isn't on everyone's radar. The golf media in Canada (US too) has largely ignored the products with a few exceptions (hello John Gordon and Jeffrey Reed). In the UK and Europe, new trolley launches are covered by golf magazines and websites with the same excitement as the latest drivers and putters. At the annual European PGA Awards night, Motocaddy often contends with Titleist, TaylorMade and other equipment makers for Supplier of the Year.
Golfers in every part of Canada are embracing trolleys in larger numbers every year but there are still a few holdouts who like to voice their objections on Twitter and Facebook. Sometimes they make me laugh.
Apparently, because I use an electric trolley, that makes me lazy or somehow impugns my masculinity. Here's a sampling of their best material:
"Just another lazy gimmick. Keep walkin' and pushin'."
"Real men carry their clubs."
Thank you. Not so much for the insults but thanks for being part of the conversation, even if your comments are misguided and wrong. As entertainer Dean Martin used to say at the end of his show back in the 60's, "Keep those cards and letters coming." 
Why the golf trolley is so threatening to some is beyond me. Maybe back when gas powered riding carts were first introduced, they received a similar response from golfers. Afterall, they were noisy and smelly, they tore up the turf, they robbed caddies of income and presumably with some people behind the wheel, they could be a real hazard on the golf course.
Obviously, we've come a long way from those early days of riding carts. So much so that today, the only negative you hear about them is the odd article about the benefits of walking or a rare rant by a superintendent to keep the carts out of the fescue.
Trolleys have become the current whipping boy for would-be comedians. They think it is lazy to use a trolley. Sure, it requires more energy to tote your bag or even to push or pull it. But last I checked, golf doesn't award extra points based on the weight you carry. It's not a combined weightlifting / golf sport.
Walking five miles or more is plenty of exercise, so why waste extra energy? If you're in doubt, try walking with a trolley one day, then using a pushcart the next time out. I guarantee you'll notice a difference. Obviously, that difference is magnified even more if you carry. The energy you save can help you with shots late in the round, and that can lead to better scoring.
Some people think trolleys are just for old people. McLuckie loves it when someone says that. "Are you going to wait until you're old to play your best golf?", he asks, then explains the advantages of saving energy and improving your score.
"Too damn expensive!" read a recent Facebook post.
That depends on your perspective. The same could be said about a BMW that costs over $100,000 yet does essentially the same job as a Toyota Corolla that costs $20,000. Both get you from Point A to Point B. One just does it with a bit more style.
Trolleys range from a low of $799 to $3,500. At the upper end you get Remote Control and Follow models but at the lower end you still have something to haul your clubs from tee to green. If you play 40 rounds a year, an investment of $1,000 in a trolley amortized over five years works out to less than the cost of a beer per round. And with proper care and maintenance, trolleys will last a lot longer than five years.
I suppose anything that gets popular or challenges people's norms will find some detractors. One old adage comes to mind though, "Don't knock it until you've tried it."