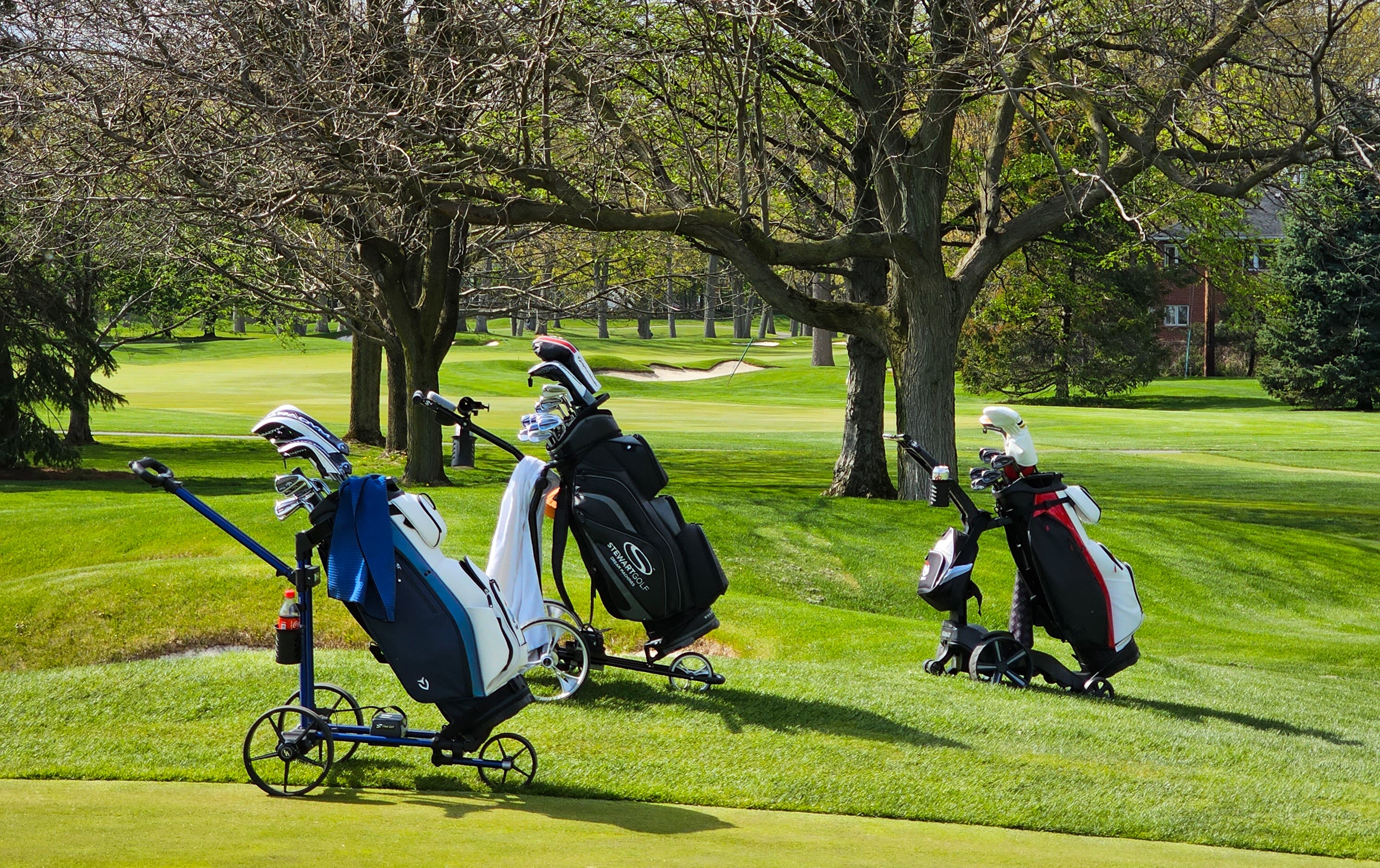 There's a Trolley for Everyone at JPSMGolf
As a trusted provider in the golfing community for over 17 years, our business proudly represents top-tier brands that offer a diverse range of models. Each brand embodies excellence in craftsmanship and performance, with each offering the user something different.  At JPSM, we carry four remarkable brands: Stewart, PowerBug, Flat Cat, and Cart-Tek. Keep reading to learn about some of the unique features, cutting-edge technology, and unrivaled quality that make these brands the "core four" in the golf trolley market.
Stewart stands out as the premier brand in the golf trolley world, offering innovative, high quality, and stylish trolleys. With manufacturing based in the United Kingdom, Stewart leads the industry by creating sophisticated products with advanced features. Stewart is known for the development of a trolley with smart follow technology, allowing the golfer to play hands-free earning the title "The Leader in Follow".
Adding the new VERTX  with Active Terrain Control, ATC provides golfers the ultimate control everywhere on course. Uphill, downhill and on uneven terrain.
Learn more about Stewart and their newest trolleys here.
Fun Fact: Stewart was the first brand carried by JPSMGolf, beginning in 2007. Read the full story here.
Flat Cat electric trolleys are the ultimate example of German design, quality, and engineering. All trolleys feature a simple efficient design, silent maneuverability, smooth riding wheels, and ultimate balance. These easy-to-use trolleys fold up effortlessly to the worlds most compact FLAT folded dimensions. As an example, two Flat Cat trolleys will fit in the trunk of a Mercedes E 450 Convertible with the top folded down. Flat Cat trolleys are available in a variety of colours for those looking for some customization that stands out on the course. 
Cart-Tek offers a range of electric golf trolleys that combine user friendly technology with ergonomic design. With the goal of helping golfers get the most out of their round, this American brand focuses its engineering efforts on technologies driven by consumer need. Cart-Tek offers two models that meet every golfer's needs and budgets. 
PowerBug is a British brand known for their high-quality entry level electric golf trolleys. This company has gained a reputation for being the best-valued lithium powered golf trolleys on the market – generally offering a lower cost motorized trolley, when compared to other brands. PowerBug trolleys offer long-lasting batteries with smooth and quite operation. With 2 models and 4 versions, these compact easy to fold units meet the needs of all those golfers who simply don't want to push a trolley.
JPSMGolf
With 17 years of electric trolley experience under our belts, we have taken the past year and are in the final development stages of our own trolley. We looked forward to sharing the exciting details. Stay Tuned!
Each of our brands offer a collection of features and benefits to enhance your on-course experience. We encourage you to contact us with any questions you may have, or, come visit us at our showroom. Talk to a member of our dedicated staff and discuss your needs, and explore the various options, and allow us to help you make an informed decision on the trolley that is the best fit.
We promise, there is certainly a golf trolley at JPSMGolf to suit your needs.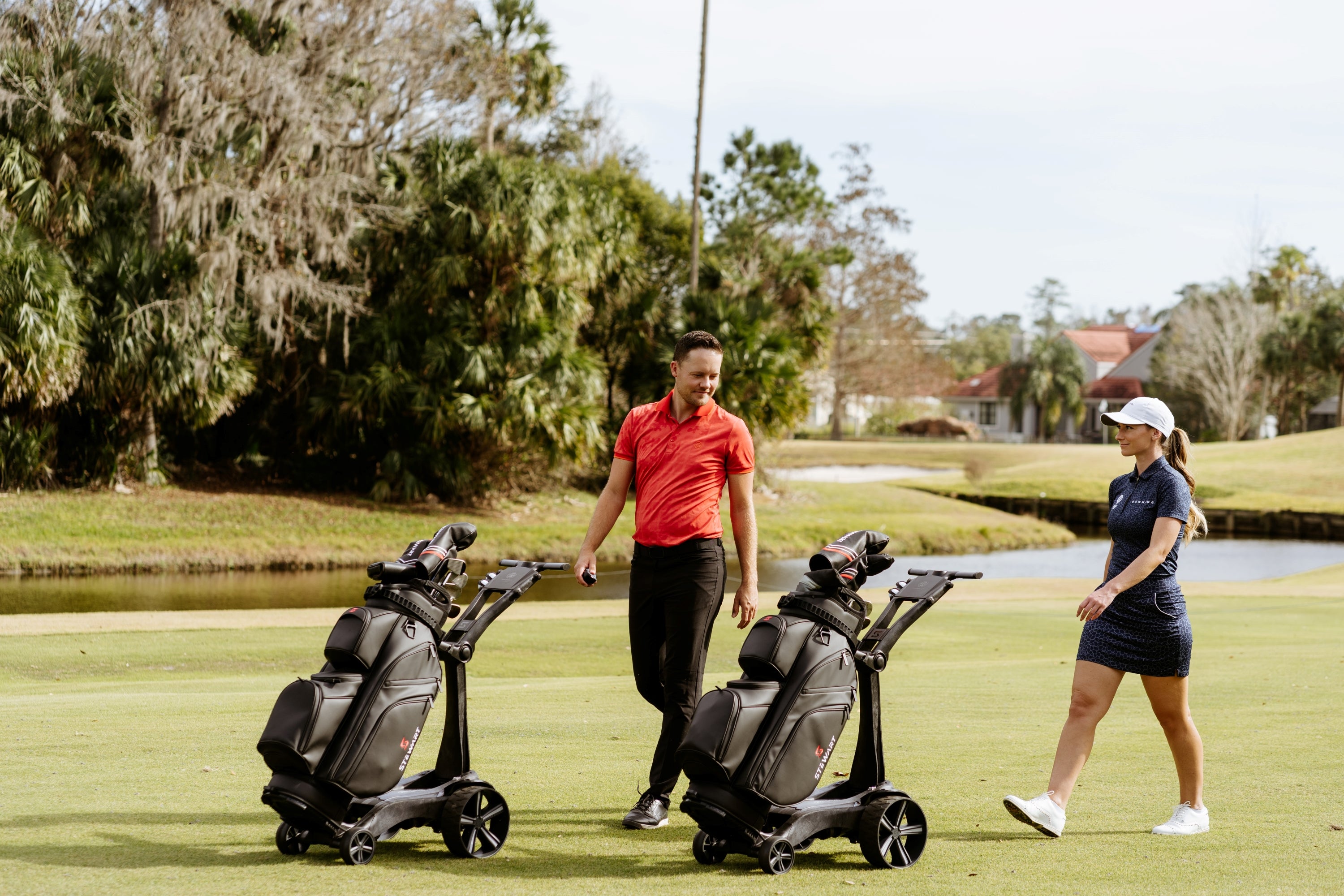 Stewart Golf is a leader in the electric golf trolley industry and continues to invest in creating amazing products that make the game of golf that much better. That begs the question, what have th...
Read more